Finding Balance Amidst the Holiday Season
The holidays are upon us again, and many look forward to spending quality time with family and friends.
Yet, constantly surrounding ourselves with family, friends, and the holiday glitz can quickly make a festive time of year become a stressful time of year.
The stress of the holidays can lead to overeating, overdrinking, overspending, and underperforming.
But there are many tactics you can use to find enjoyment during the season while maintaining your emotional, fiscal, and physical health.
Read on for tips to help you balance indulgence and moderation and retain your sanity this holiday season.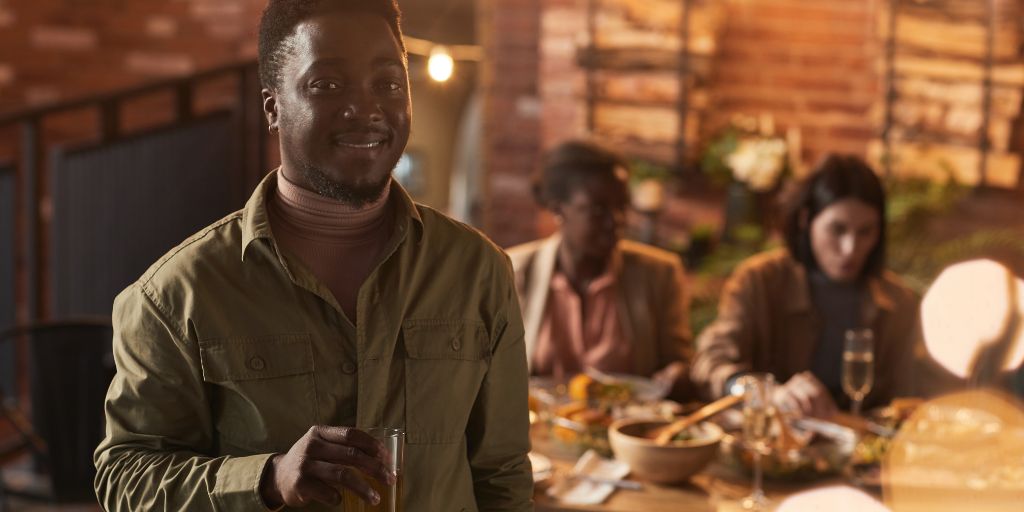 Finding Balance with Holiday Food & Drinks
Staying healthy this holiday season starts with eating nutritious meals. Eating healthy doesn't mean you have to deprive yourself of all the joys of the season.
Instead, try to make small changes like incorporating more fruits and vegetables into your meals and limiting the amount of processed and sugary foods you consume.
Eating high-quality meals will keep you feeling good, help you maintain your energy levels, and keep your immune system strong.
Healthy eating can also help you feel more satisfied, so you don't overindulge and end up feeling sluggish and bloated.
Here are several tactics to help you maintain a healthy diet and indulge in some holiday treats.
Eat slowly, chew your food well, and savor each bite of your holiday meal.
Make sure you get enough protein in your meals and ingest plenty of fiber by choosing whole grain products, fruit, and veggies.
Include warming spices in your foods to help keep your digestive system balanced.
Keep an eye out for hidden sugars and dense extra calories in side dishes, sauces, and gravies.
Drink plenty of water throughout the day to help you stay hydrated.
Avoid drinking alcohol during meals or while eating. If you're going to have a drink, choose wine instead of beer or hard liquor. as wine is lower in calories than either beer or spirits.
Explore options for enjoying your favorite holiday drinks without the alcohol or avoid adding extra sugar to your cocktails. For example, mix sparkling mineral water with cranberry juice or club soda. Or add fresh lime juice to your favorite cocktail.
Balancing Your Wellness Goals & Social Plans
The holidays are here, and many look forward to spending quality family time with loved ones and socializing with friends. But don't let a busy schedule impede your mental health or dictate your healthy eating and fitness goals.
Keep active during the holidays, and ask family and friends to join you!
Remember, regular exercise helps maintain body weight, keep stress levels in check, alleviate anxiety, improve moods, and reduce blood pressure.
Use at-home workout videos online if you don't have access to a gym or studio.
Get outside as often as possible. Take advantage of the beautiful weather and enjoy nature's beauty.
If you're planning on attending parties or other social gatherings, be mindful of how much you eat and drink beforehand and remain conscious of what you're eating and drinking during the event, so you don't overindulge.
Stay hydrated before, during, and after any holiday outings.
Balancing Relationships & Emotions
Holidays can bring up old feelings and emotions that we've been suppressing. These feelings may come and go throughout the day or season.
Try to stay aware of these feelings and acknowledge them when they arise. This allows you to understand yourself and others better.
Journaling may help you express these thoughts and emotions, and you can learn to manage your feelings and not allow them to control you.
Consider setting aside a few minutes each day to meditate, practice yoga, or just sit in silence and be mindful of your breath.
Be mindful; accepting the present moment allows us to let go of the past, enjoy the present, and look forward to the future.
Healthy emotions help us live well. We tend to be more creative and productive when we're feeling good.
A positive outlook is contagious; if you feel happy, it's natural for others around you to be happier.
The way we treat ourselves affects our relationships with others. Be kind to yourself.
Make sure you get adequate rest and sleep and take breaks from socializing if necessary.
Balancing a Giving Spirit & Your Finances
If your social calendar is filled and your gift list is long, but money is in short supply, a little creativity can help you balance your generous and festive spirit with your budget.
Cut costs and balance holiday spending when buying gifts and participating in other holiday traditions by:
Hosting cocktail parties or other holiday gatherings in your home and asking guests to bring food and drinks to share instead of dining out.
Making homemade presents or gifting your skills.
Purchasing vintage or second-hand treasures.
Participating in a Secret Santa exchange to limit the number of people you buy for.
Rethinking the meaning of the holidays and starting new traditions that are budget friendly for everyone.
Maintain Your Wellness Focus this Holiday Season
If you're like most people, your focus shifts to holiday parties, family gatherings, and gift shopping this time of year. Yet the holiday season is not the time to lose sight of your health and wellness.
Stay mindful of your well-being while enjoying family, friends, favorite foods, and the season's spirit.
Follow our tips to balance your diet and exercise routines, and take care of yourself throughout this time of year. Happy Holidays!